Today I experimented with adding a headphone jack to my Darling, Clementine ULtra (now a 6BG6 amp, but I'll share that later) and also my get*set*go. I looked at three methods: direct connect, 100 ohm resistor in series and a 20-20 circuit (20 ohms in series and 20 ohms in parallel). I used my Sony MDR-V6 headphones, which have a nominal impedance of 63 ohms and 106dB sensitivity at 1mW.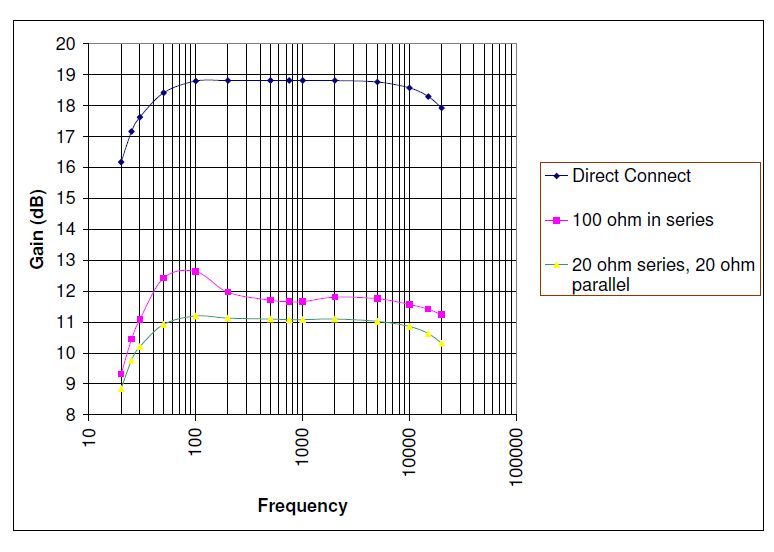 Looking at the chart, I have the frequency response of all three methods in comparison. Don't worry about the relative gain too much, as ultimately you want to balance this with your source input and whatever volume balance control you'll be using, either the source's volume control like on an iPod, a volume pot adding to your tube power amp, or a combination of both.
DIRECT CONNECT
The Darling SET isn't a frequency bandwidth champ as we are about -1dB down at 20Hz and 20kHz with the direct connect output. But considering $37 output transformers, this is pretty good. Damping also isn't half bad due to the lower plate resistance of the 1626, in characteristic triode fashion. This damping factor, or low amplifier impedance, is a key in keeping the output voltage constant with a varying speaker impedance, as all speakers have a variable impedance over frequency. The nice thing about the Darling is that the output will never be large enough to damage a lot of headphones. Consider that a 2.5Vrms output is what it delivers into 8 ohm load for its 3/4W. This 2.5V with a 63 ohm load is a perfect 100mW max. My Sony's can supposedly handle 1W max. For lower impedance headphones, like 32 ohm Grados, this max output doubles to 200mW.
100 OHM IN SERIES
This is a classic method for adding a headphone jack to a power amp, with a resistor in series with the secondary '+' and the headphones. The upside: you can adjust the size of this resistor (even use a stereo pot) to fine tune your headphone level. I think for headphones under 100 ohms impedance I would use a 200 ohm stereo volume pot, and probably 500 ohms or 1K for headphones 100 ohms and greater. The downside can possibly be a major problem though: this resistance is now your amplifier impedance and your damping is horrible. This means your headphones will exhibit their full sonic signature, which could be flat or might be as curvy as a roller coaster. Look at the chart. Now we see a hump of about an extra 1dB at 80Hz to 100Hz. This doesn't seem very bad to me, and this method would probably be sufficient for these Sonys.
20/20
I used a voltage divider of 20 ohms and 20 ohms for this test. I used a couple 1/4W resistors for this test, but you'd probably want to use 1W rated parts for these SET amps. In addition to giving control over the output level with the divider, I have a 20 ohm resistor in parallel with the headphones. This greatly lessens the dynamic impedance characteristic of the headphones, as the 20 ohms is the dominant resistor in a paralleled resistor configuration. See how the output level looks almost like the direct connect level. For lower impedance headphones lie the Grados, you would probably want to lower this paralleled resistor to 10 ohms. To adjust the base headphone level, or to limit the max output level, you would adjust the series resistor.
EPILOGUE
The 20/20 method seems to address all the issues the best. You can adjust the output level for your headphones, and you can still get a nice flat output to your headphones (to the limitations of the amplifier). One more major plus for the 20/20 method is that the effects of residual hum and noise is lessened. You can adjust the series resistor higher to help lower this to a reasonable level. Note that your headphone sensitivity plays a large role in that, too.
Shannon