My first attempt at building a complete guitar amp. This one is about 95% faithful to the original design, the only major component which isn't an exact equivalent in the original, is the output trannie, which is the paper bobbin TF-110- 48 UL from Triode, which has a larger core, with broader frequency rsponse. I didn't use the UL taps, though I retained the leads, for experimentation, shouild I decide to try UL mode at some point in the future. The only truly non-original feature which I added, was that the two speaker output jacks, are individually wired for 4 and 8 ohms, rather than just being connected in parallel. This will allow for future speaker-rolling, should the inspiration hit me some day
The only thing that is missing is a genuine
FENDER
logo plate above the speaker grille.
The chrome-plated, silk-screened chassis and the iron are from Triode Electronics, and the "Tweed" Cab is from Tube Depot, as is the Jensen P12Q speaker.
I did not even consider trying to build the cabinet, or punch, drill, plate and label the chassis myself, as my woodworking and metal-mangling skills are not sufficient to get the final results that I really wanted.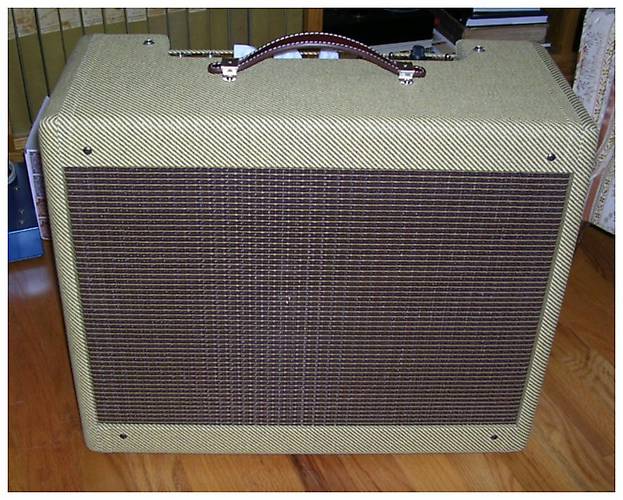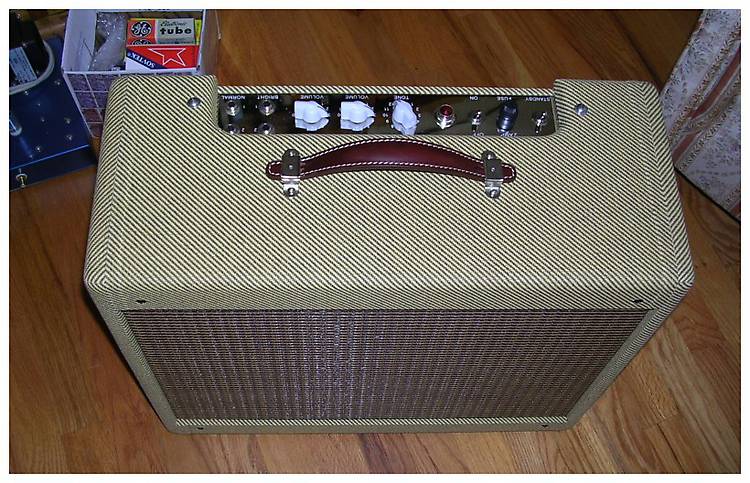 Tubes are all vintage USA production, 5Y3GT, 12AY7, 12AX7 and two 6V6GTs. The Jensen sppeaker is new manufacture, produced in Italy.
More details to follow, after I get some sleep....
/ed B