This is from a Beltone (Teisco) AP-22 amp with a single 12" speaker. It is approximately 18 watts, with 2 EL-84's, cathode biased. The preamp is a series of 6VA6 Tubes including one for the tremolo.
This tone stack has a distinct tweed quality, with honky mids, and little to no bass response. I have been searching online and cannot see anything remotely similar. I am wondering if anyone has seen this in other amps, and if so which ones.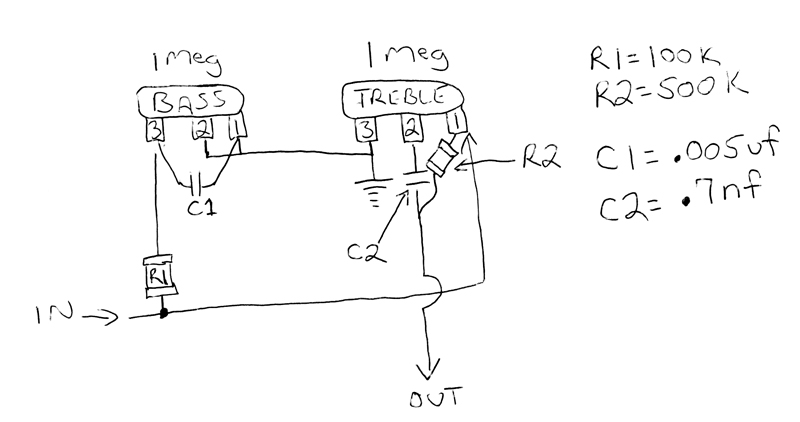 Just to clarify the bad drawing:
1: BASS 1 & 2 along with Treble 3 connect to ground
2: Bass 1 & 3 are joined by a .005 cap
3: Treble 2 is output, and connects immediately to a .7nf cap
4: Treble 1 is not only the input but also joins the output with a 500k resistor (it joins output after C2)
5: Output eventually goes through a .01 cap then to one of the 6AV6 tubes.
6: Input looks normal with the 100k resistor to the bass control, but there is no cap prior to the treble input which most stacks have (250p or 270p, etc...)
SECOND QUESTION!
It does sound great, but I'm never happy - LOL! In a quest for a little more lows, I am considering replacing this tone stack with either a "Brownface" stack, or a standard FMV stack, with a fixed mid resistor. Both ideas can be viewed at this site:
http://amps.zugster.net/articles/tone-stacks
Does anyone see any immediate dangers in doing so? Any tips or suggestions?
This tone stack removes with just three solder points, so I would keep it in tact and simply install a new one. That way I can quickly go back if I need to or want to. My concern is more with how the new tone stack may interact with the preamp. Are there impedance issues I should be really concerned with?
Thanks in advance for your time.
Sean