Sooner, or later, it had to happen. A G*S*G with 6AV5GAs in place of 6B4Gs. The rectifier is a Sylvania 6AX5GT and for the VA, a Tung-Sol 6SL7, all of the tubes NOS.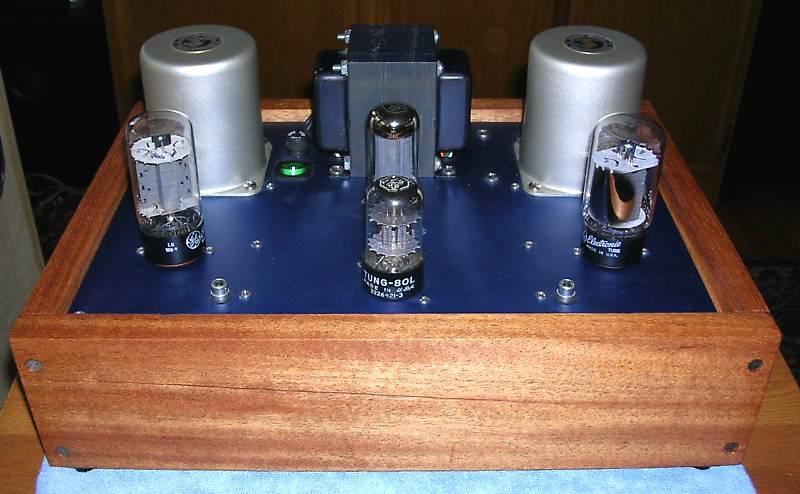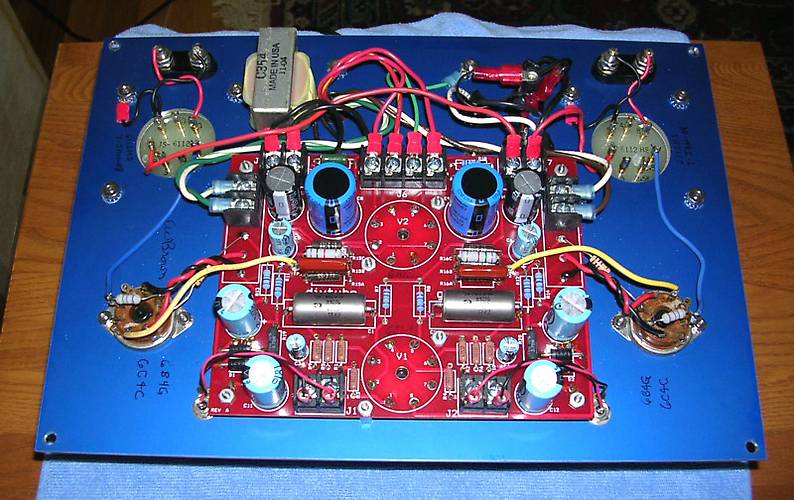 Those with sharp "eagle eyes" will notice that the plate is still labelled for the original 6B4G / 6C4C triodes, next to the octal sockets
.
I took my original G*S*G which was built on Front Panel Express plate, and re-wired the tube sockets for 6AV5GAs. The cathode is connected tio the "test point" for each channel, which is the "top" of the cathode resistors and bypass caps on the PC board.
I connected the plate to the screen grid with a 470 ohm, 1W resistor, at the socket.
I kept the DC filament power for now, but may eventually re-wire it for AC just to lighten the load on the PA774's filament windings (the rectification ptocess consumes 1.4 to 1.8X the delivered current).
Powered it up, made a few measurements, and the new tubes were within a volt or two, and within a milliamp of the 6B4Gs.
Connected it to the system, and it sounded every bit as good as the 6B4Gs, with somewhat better bass response.
Since the tubes have a screen grid and my James 6112HS OPTs have a SG tap, I just had to try ultralinear operation.
It definitely had a lot more output power, and even better bass response, but the high freqs sounded just a bit too harsh, a sign of higher THD.
Might be good for a "Champ" guitar amp, or listening to death-metal,
but it was kinda rough on the ears, otherwise
OK, back to triode mode, it went back to the noticeably cleaner sound quality.
My measurements indicated the tubes were drawing 49 to 50 mA, with the 900 ohm cathode resistors. I decided to kick things up just a bit, and lowered it to 800 ohms, by soldering a 7.5K 2W resistor across one of the 2.7Ks which made up the 900 ohm RK on the board. It seemed to make a slight improvement, but I wasn't going to take the resistors out and compare again.
I should have just changed one channel, then I would have had both available for immediate comparison, but then hindsight is always 20-20...
One more test, in the spirit of Tube Lab George...
http://www.tubelab.com/6AV5.htm
I took an empty octal base, and made a plug in 6AX5GT substitute, using 2 UF4007s with a 200 ohm, 5W WW resistor in series with each anode.
This delivered a B+ of 330VDC, and the 6AV5GAs wer e now consuming 60 mA, and with a V P-K of 268V across each one, for a plate dissipation of 16 watts. This also took 1.2A of filament current demand off one of the filament windings.
Tried it out, it sounded a LOT better, much more "defined" bass, and clearer highs. I ran it this way for a couple hours, and the tubes didn't show any "distress" and the PA774 stayed warm to the touch, and not blisteringly, scaldingly hot as in an ST35.
Next step, take out the 200 ohm series resistors, and kick up the B+ to around 360VDC and see & hear what happens.... I finally decided on 50 ohms 5W in series with each anode, as being the best of both worlds.
I've got LOTS of 6AV5GAs (and 12AV5GAs), so I am not worried about cooking any tubes. Not all 6AV5GAs are created equal, some RCAs have rather wimpy plate structures, other brands have larger, heavier plates. I've been using the GEs for now, and will try sme DuMonts (made by Sylvania). I'll dig thru the stash and see if I have any 6FW5s, they are similar to 6AV5GA, but with an 18W plate dissipation rating.
All of this is basically a "test bed" for another upcoming design using 12AV5GAs and SRPP 12SL7s or 12AT7s. A good way to kick off the new year!
/ed B in NC